On Saturday, December 17th, 2022 I had the honor of participating in Wreaths Across America at Arlington National Cemetery (ANC).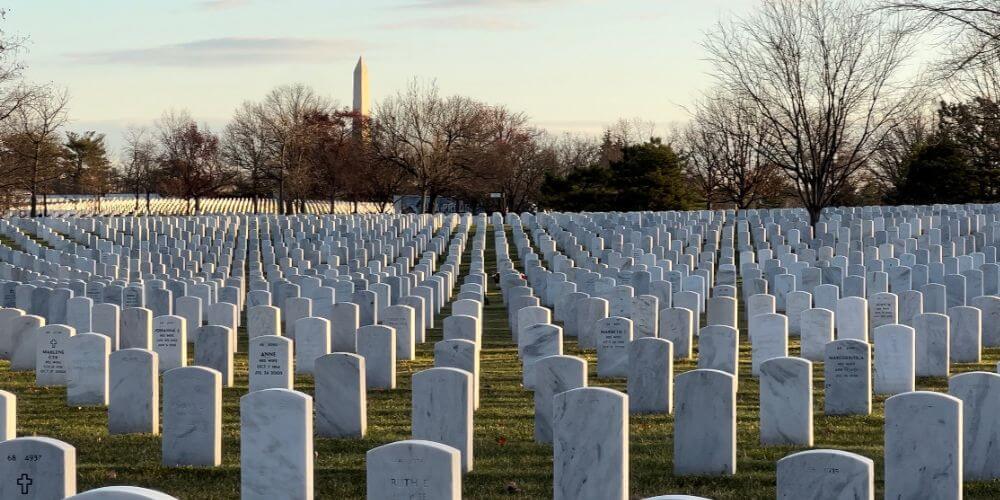 While out placing wreaths, I wondered about the history of the people we were honoring and what stories they had to tell. And naturally, how many of these people had a connection to the Philippines. Here's what I discovered…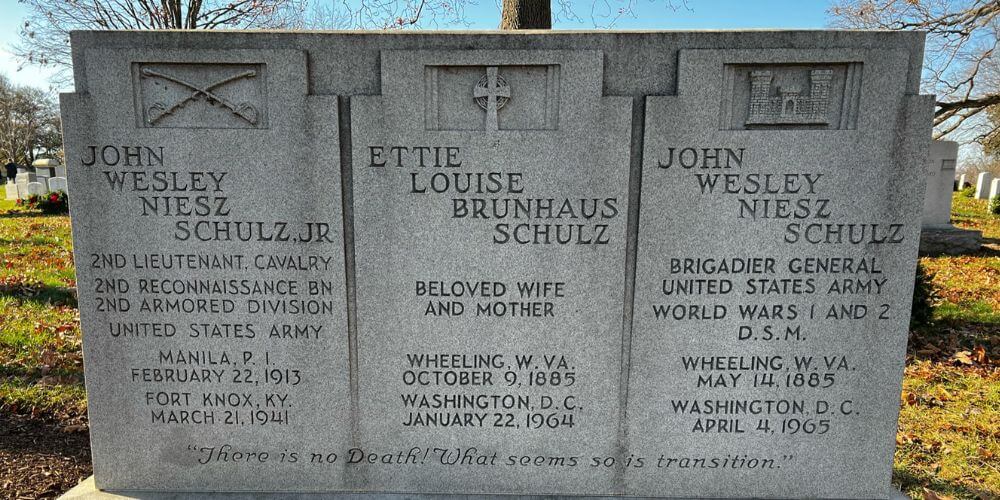 Gen. John W. N. Schulz Sr. Brigadier General, US Army WWI & WWII and his wife Ettie Louis Brunhaus Schulz were both born in Wheeling, West Virginia in 1885 only a few months apart. In 1913 while stationed in Manila, Philippines, John and Ettie had a son named John Wesley Niesz Schulz JR. John Sr. and Ettie both outlived their son and passed a year and a few months apart in Washington, D.C.
John Wesley Nies Shulz Jr. also went on to serve in the US Army. John graduated from Dartmouth, but also spent a year at UNC. During college he was commissioned 2nd lieutenant of cavalry in the Reserve Corps. In 1939 he was commissioned 2nd Lieutenant of cavalry in the Army. After graduation John also attended Harvard Law School, worked as a reporter for Capitol Daily in Washington, D.C. for a year, and continued to serve in the Army. In 1941 While on duty in Fort Knox, Ky, John Jr. died as the result of an automobile accident.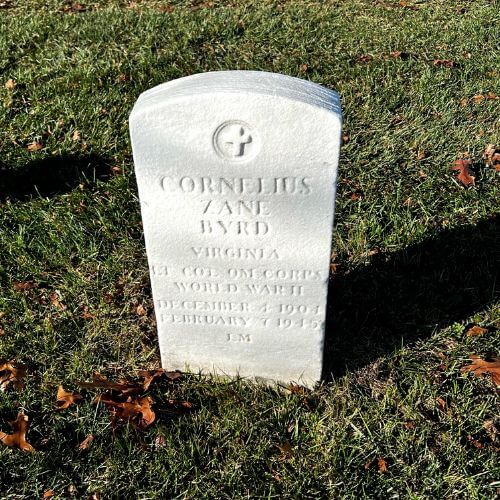 Cornelius Zane Byrd "Neil", Lieutenant Colonel, US Army WWII, was born in Accomack County, VA in 1904. Neil graduated from West Point in 1939 and joined the Army. LT. COL. Byrd served with the Quartermaster Corps assigned to Cebu Brigade Visayan Force while stationed in the Philippines. Lt. Col. Byrd survived the Bataan Death March and was put aboard the Oryoku Maru for transport to Japan; the ship was sunk by American planes at Subic Bay, Philippine Islands, on December 15, 1944. Lieutenant Colonel Byrd was originally buried in Manila, Philippines, but then reinterred in Arlington National Cemetery in 1949.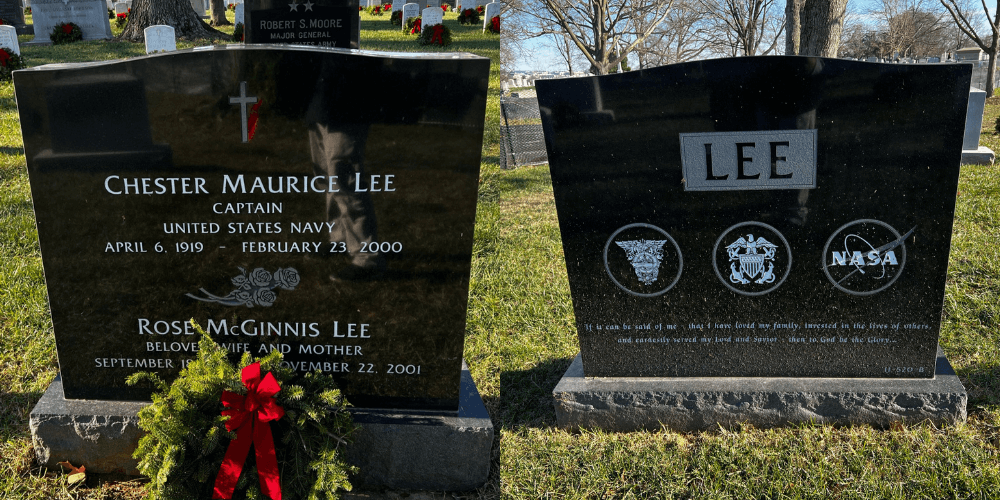 Captain Chester Maurice Lee "Chet", US Navy, WWII, was born on April 6, 1919. Chet graduated from the U.S. Naval Academy in 1942 and then went directly into service in World War II. During Chet's service he helped pioneer the Navy's use of ship radar and was instrumental in development and testing of the Polaris missile program. In 1965, he retired from active duty in order to go and work for NASA. Over the next 23 years, Captain Lee would go on to serve as the Mission Director for Apollo Missions 1 – 11 and then Mission Director for Apollo Moon Missions 12 – 17. He was also Director for the Apollo/Soyuz space-docking mission. Captain Lee's impressive NASA career continued as he played an integral role in the development, operation and payload management for the U.S. Space Shuttle program. Chet died November 22, 2001 and is buried with his wife, Rose McGinnis Lee. They lived in McLean, Virginia.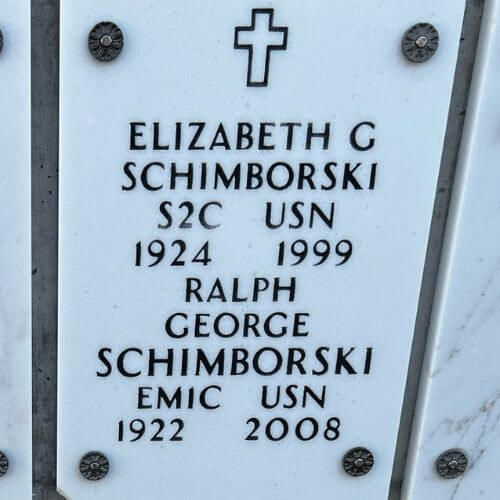 Elizabeth Grega Schimborski S2C, US Navy, WWII, 1924 – 1999 married Ralph Schimborski, EMIC US Navy, WWII, 1922 – 2008. Ralph later worked as an Ironworker Superintendent. They lived in Pennsylvania and had 6 children, 9 grandchildren, and 4 great grandchildren.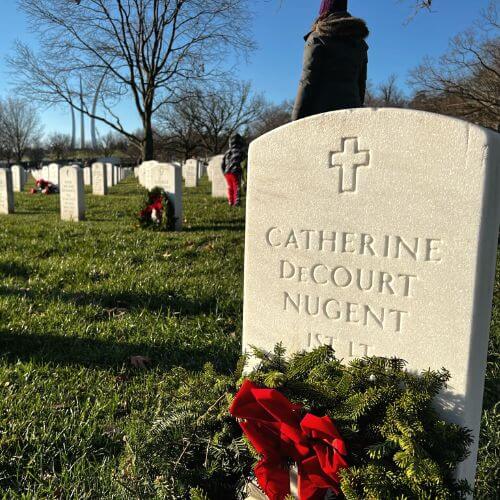 Catherine DeCourt Nugent, US Army was born in Manila, Philippines on November 28, 1916 to Alma and Julian DeCourt who also served in the US Army. Catherine died on December 14, 1994. Catherine, Julian, and Alma are all buried at ANC. Catherine had a daughter of the same name who is currently a therapist specializing in trauma.